Article, July 4, 2023
Baked Oak adds timeless character to Battersea apartment
---
Baked Oak flooring from The Natural Wood Floor Co was the perfect choice for a refurbishment project in Battersea, undertaken by Neil Davies Architects.
With a focus on simplified design and architecture that has a calmness about it, without feeling cold and unwelcoming, the architects set to work on the redesign of the Mandeville Lofts apartment.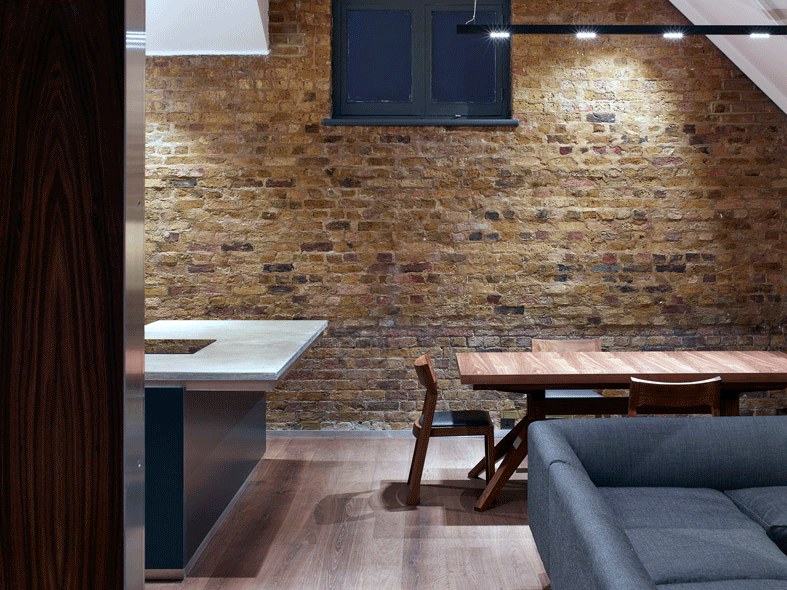 Wood floor part of an earthy palette of materials
The two-bedroom apartment with a shared living, dining and kitchen area was being fitted out for the high-end lettings market area. Rather than a white box apartment, the character in the existing loft space in the former shoe polishing factory was retained to ensure it remains unique. The existing space boasted plenty of natural light, plus elements that had real character, including oak trusses and exposed brick walls. Every new element that was introduced was therefore chosen to complement these, including the oak floors. An earthy palette of materials was chosen, including large walnut doors, concrete worktops and natural stone tiles in the bathroom and shower rooms.
The Natural Wood Floor Co's Baked Oak flooring was the perfect choice as it is a hardwearing engineered wood floor that will age gracefully over time. The original solid oak floorboards were stained dark brown, so the new floors bring the building up to date. The dark brown baked hue of the new floor is created as a result of the lumber being placed in a special industrial kiln, heated to a high temperature and sealed, transforming the pale coloured oak into a uniform dark chocolate brown colour, similar to Walnut, Wenge or other dark and exotic species. The treatment process transforms the wood throughout, so the floor can be re-sanded many times without losing its colour, unlike a stained floor where the colouring will only affect the top layer and will fade over time.
The natural oil finish of the floor in Mandeville Lofts enhances the grain and creates a perfect glass-like covering.
Timelessly contemporary wood floors
The Baked Oak flooring works brilliantly with the décor and enhances the exposed brickwork and industrial-inspired kitchen area. As well as working aesthetically, the engineered wood floor was an excellent choice practically too, being hardwearing and simple to care for. While this particular project is contemporary in style, the beauty of Baked Oak is that it is a timeless option that works well across all interiors.
For more real wood flooring ideas check out Pinterest board or follow us on Instagram.