Article, March 21, 2023
Creating a sense of flow and space with Oak Parquet wood floors
---
Open-plan living is all the rage, and choosing engineered wood flooring that works throughout the ground floor of a property creates a seamless and cohesive look. That was the goal for Anouska Anquetil, a top UK interior designer when her attention turned to creating a luxury yet welcoming feel for own home in south London.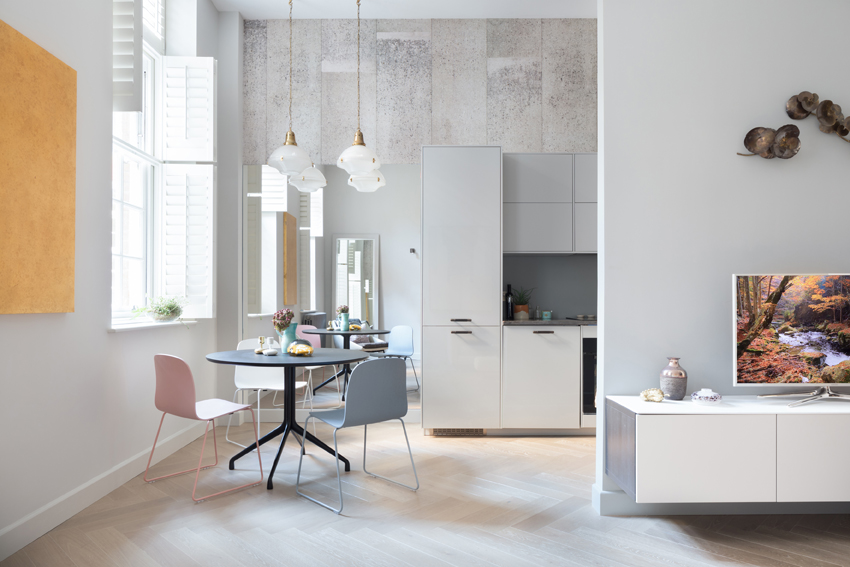 A visit to The Natural Wood Floor Company showroom in nearby Wandsworth, led to Anouska, who runs her own interior design business Gilt Studio, falling in love with Oak Parquet boards a Silver White Oiled finish. Commenting on her experience she said: "To me, it was about finding a parquet with a Parisienne industrial luxe feel to it. I loved the silver white blocks because they're big and have a modern feel to them." 
Creating a sense of calm with real wood floors
Back home, internal walls were knocked down to create an open-plan living room, dining room and kitchen. A palette of soft greys, dusky pinks and hints of gold was the chosen colour scheme, creating a calm, fresh and modern vibe that works so well when combined with the silver white oak flooring. So often considered a classic flooring choice, the oak parquet chosen for this project works well due to its versatility and sense of timelessness.
Eager to achieve a sense of flow and continuity throughout the property, Anouska continued with the Natural Wood Floor Company oak parquet for the hall and bedrooms. Strong, durable, and straightforward to care for, this is the perfect flooring choice for every area of a home, adding character and personality at every turn. "The flooring was a major consideration," Anouska explains.  "Playing with texture is important and this floor makes a big statement.  I've used it throughout the whole apartment to create a sense of flow and continuity."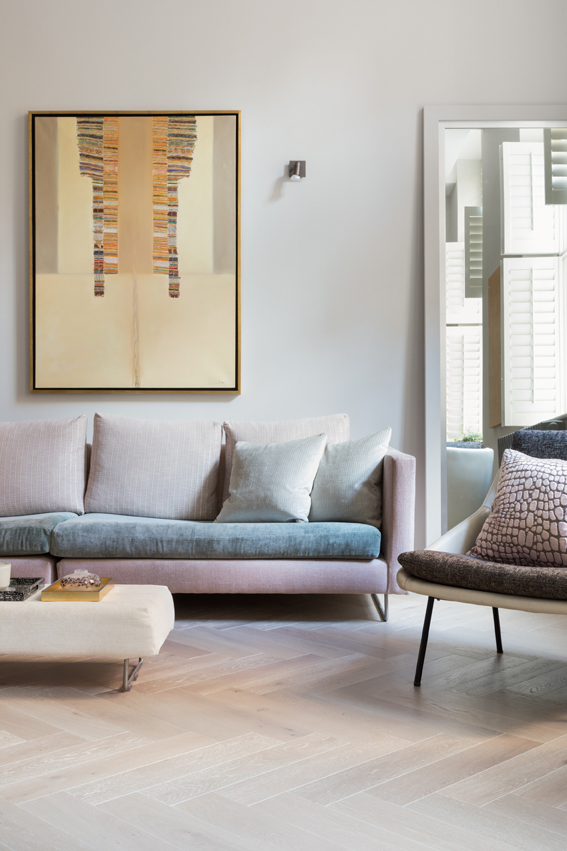 Going big with parquet
As well as the shade of oak, the size of the boards was an important consideration for this homeowner, who was determined to create a feeling of spaciousness throughout her modest apartment. "In a smaller space, you might be tempted to choose a narrow parquet block, but it's much better to go big," she explains. "The lines and patterns of a smaller block will look fussier and busier, making the overall effect rather overwhelming.
"Larger blocks give a seamless and more elegant feel to a room. The flowing contours create a sense of dimension, making it appear larger. Pattern and texture are very important too, as they add interest and help lead the eye through a space, playing with the perspective."
Other savvy design tricks pair brilliantly with Anouska's choice of flooring to create the ideal look. Cleverly positioned mirrors reflect the light, textured wallpaper draws the eye up to the high ceilings, and there is a mix of lighting and chic wall mounted furniture.  Together with the Oak Parquet engineered wood flooring from The Natural Wood Floor Company, the whole look ties together to give the apartment a super luxe and spacious feel.
A sense of craftmanship at Natural Wood Floor Co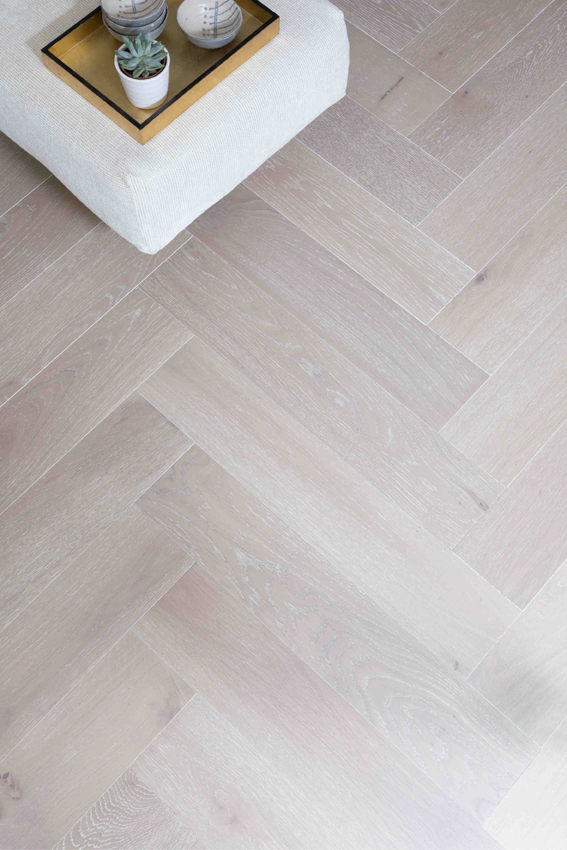 For Anouska, being able to browse the wood flooring choices available and get expert advice was an important part of the design process. She says: "The sales guys were really helpful.  The Natural Wood Floor Company is a hidden gem.  It feels like going into a wood mill, so you are right at the source of the flooring.  There's a real sense of craftsmanship and an authentic touch to the products."
For more real wood flooring ideas check out Pinterest board or follow us on Instagram.